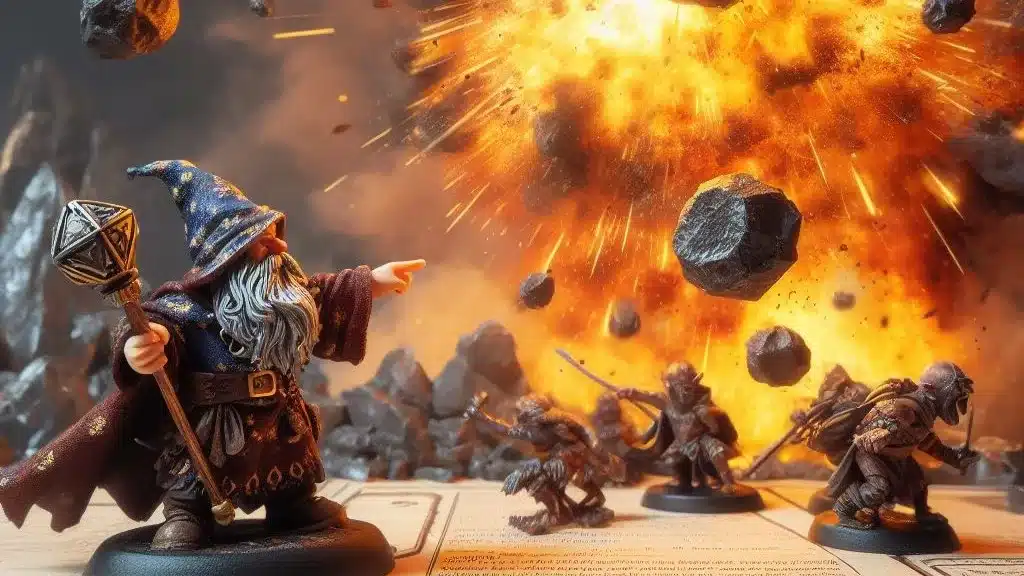 AoE spells (or area of effect spells) are a big part of DnD 5e. In fact, 181 spells in DnD 5e are AoE spells. I've compiled all of 5e's AoE spells in the table below.
Note that I play kind of fast and loose with the term "AoE." Spells that have multiple targets, but don't affect an area, are included in this list.
For example, I include Bless as an AoE spell, since it affects multiple allies, rather than affects a specific area. I also include a spell like Magic Missile, which has multiple targets but likewise doesn't affect an area.
I also used my own judgment for the categories of damage (although that one's pretty straightforward), heal, buff, debuff, and utility. And, of course, spell can fall into multiple categories.
| Spell Name | Level | Damage | Heal | Buff | Debuff | Utility |
| --- | --- | --- | --- | --- | --- | --- |
| Acid Splash | 0 (cantrip) | X | | | | |
| Create Bonfire | 0 (cantrip) | X | | | | |
| Light | 0 (cantrip) | | | | | X |
| Mold Earth | 0 (cantrip) | | | | | X |
| Shape Water | 0 (cantrip) | | | | | X |
| Sword Burst | 0 (cantrip) | X | | | | |
| Thunderclap | 0 (cantrip) | X | | | | |
| Word of Radiance | 0 (cantrip) | X | | | | |
| Arms of Hadar | 1st-level | X | | | | |
| Bane | 1st-level | | | | X | |
| Bless | 1st-level | | | X | | |
| Burning Hands | 1st-level | X | | | | |
| Color Spray | 1st-level | | | | X | |
| Create or Destroy Water | 1st-level | | | | | X |
| Detect Evil and Good | 1st-level | | | | | X |
| Detect Magic | 1st-level | | | | | X |
| Detect Poison and Disease | 1st-level | | | | | X |
| Earth Tremor | 1st-level | X | | | X | |
| Entangle | 1st-level | | | X | | |
| Faerie Fire | 1st-level | | | X | | |
| Feather Fall | 1st-level | | X | | | |
| Fog Cloud | 1st-level | | | | X | |
| Grease | 1st-level | | | X | | |
| Hail of Thorns | 1st-level | X | | | | |
| Ice Knife | 1st-level | X | | | | |
| Magic Missile | 1st-level | X | | | | |
| Purify Food and Drink | 1st-level | | X | | | |
| Silent Image | 1st-level | | | X | | |
| Sleep | 1st-level | | | X | | |
| Snare | 1st-level | | | X | | |
| Tasha's Caustic Brew | 1st-level | X | | | | |
| Thunderwave | 1st-level | X | | | | |
| Aganazzar's Scorcher | 2nd-level | X | | | | |
| Aid | 2nd-level | | X | | | |
| Calm Emotions | 2nd-level | | X | | | |
| Cloud of Daggers | 2nd-level | X | | | | |
| Darkness | 2nd-level | | | X | | |
| Dragon's Breath | 2nd-level | X | | X | | |
| Find Traps | 2nd-level | | | X | | |
| Flaming Sphere | 2nd-level | X | | | | |
| Gust of Wind | 2nd-level | | | X | | |
| Locate Animals or Plants | 2nd-level | | | X | | |
| Locate Object | 2nd-level | | | X | | |
| Maximilian's Earthen Grasp | 2nd-level | X | | | | |
| Moonbeam | 2nd-level | X | | | | |
| Pass Without Trace | 2nd-level | | X | | | |
| Pyrotechnics | 2nd-level | X | | | | |
| Scorching Ray | 2nd-level | X | | | | |
| Shatter | 2nd-level | X | | | | |
| Silence | 2nd-level | | X | | X | |
| Snilloc's Snowball Swarm | 2nd-level | X | | | | |
| Spike Growth | 2nd-level | X | | | | |
| Warding Wind | 2nd-level | | | X | | |
| Web | 2nd-level | | | X | X | |
| Zone of Truth | 2nd-level | | | X | | |
| Aura of Vitality | 3rd-level | | X | | | |
| Beacon of Hope | 3rd-level | | X | | | |
| Call Lightning | 3rd-level | X | | | | |
| Catnap | 3rd-level | | | | | X |
| Conjure Barrage | 3rd-level | X | | | | |
| Crusader's Mantle | 3rd-level | | X | | X | |
| Daylight | 3rd-level | | | | X | |
| Erupting Earth | 3rd-level | X | | | | |
| Fireball | 3rd-level | X | | | | |
| Glyph of Warding | 3rd-level | | | X | X | |
| Hunger of Hadar | 3rd-level | | | X | | |
| Hypnotic Pattern | 3rd-level | | | X | X | |
| Lightning Arrow | 3rd-level | X | | | | |
| Lightning Bolt | 3rd-level | X | | | | |
| Magic Circle | 3rd-level | | | X | | |
| Mass Healing Word | 3rd-level | | X | | | |
| Melf's Minute Meteors | 3rd-level | X | | | | |
| Plant Growth | 3rd-level | | | X | | |
| Sleet Storm | 3rd-level | X | | X | | |
| Slow | 3rd-level | | | X | | |
| Spirit Guardians | 3rd-level | | | X | | |
| Spirit Shroud | 3rd-level | | | X | X | |
| Stinking Cloud | 3rd-level | | | X | | |
| Thunder Step | 3rd-level | X | | X | | |
| Tidal Wave | 3rd-level | X | | X | | |
| Wall of Sand | 3rd-level | | | X | X | |
| Wall of Water | 3rd-level | | | X | | |
| Water Breathing | 3rd-level | | X | | | |
| Water Walk | 3rd-level | | X | | | |
| Wind Wall | 3rd-level | | | X | | |
| Aura of Life | 4th-level | | X | X | | |
| Aura of Purity | 4th-level | | X | | | |
| Confusion | 4th-level | | | | X | |
| Control Water | 4th-level | | X | X | X | |
| Evard's Black Tentacles | 4th-level | X | | | X | |
| Fire Shield | 4th-level | | X | | X | |
| Guardian of Faith | 4th-level | X | | | | |
| Hallucinatory Terrain | 4th-level | | | | X | |
| Ice Storm | 4th-level | X | | | | |
| Locate Creature | 4th-level | | | X | | |
| Mordenkainen's Private Sanctum | 4th-level | | | | X | |
| Otiluke's Resilient Sphere | 4th-level | | X | X | | |
| Shadow of Moil | 4th-level | | X | | | |
| Sickening Radiance | 4th-level | X | X | | X | |
| Storm Sphere | 4th-level | X | | | X | |
| Vitriolic Sphere | 4th-level | X | | | | |
| Wall of Fire | 4th-level | X | | | X | |
| Watery Sphere | 4th-level | X | | | X | |
| Animate Objects | 5th-level | X | | | X | |
| Antilife Shell | 5th-level | | X | | X | |
| Circle of Power | 5th-level | | X | | X | |
| Cloudkill | 5th-level | X | | | X | |
| Cone of Cold | 5th-level | X | | | X | |
| Conjure Volley | 5th-level | X | | | X | |
| Control Winds | 5th-level | | | | X | |
| Danse Macabre | 5th-level | | X | | X | |
| Dawn | 5th-level | X | | | X | |
| Destructive Wave | 5th-level | X | X | | X | |
| Flame Strike | 5th-level | X | | | X | |
| Holy Weapon | 5th-level | X | | | X | |
| Insect Plague | 5th-level | X | | | X | |
| Maelstrom | 5th-level | X | | | X | |
| Mass Cure Wounds | 5th-level | | X | | X | |
| Rary's Telepathic Bond | 5th-level | | X | | X | |
| Seeming | 5th-level | | X | | X | |
| Steel Wind Strike | 5th-level | X | | | X | |
| Synaptic Static | 5th-level | X | X | | X | |
| Transmute Rock | 5th-level | X | X | | X | |
| Wall of Force | 5th-level | X | | | X | |
| Wall of Light | 5th-level | X | X | | X | |
| Wall of Stone | 5th-level | | | | | 1 |
| Wrath of Nature | 5th-level | 1 | | 1 | 1 | 1 |
| Blade Barrier | 6th-level | 1 | | | | |
| Bones of the Earth | 6th-level | 1 | | 1 | 1 | 1 |
| Chain Lightning | 6th-level | 1 | | | | |
| Circle of Death | 6th-level | 1 | | | | |
| Create Undead | 6th-level | | | | | 1 |
| Forbiddance | 6th-level | | | | | 1 |
| Globe of Invulnerability | 6th-level | | | 1 | | |
| Guards and Wards | 6th-level | | | | | 1 |
| Heroes' Feast | 6th-level | | 1 | 1 | | |
| Investiture of Flame | 6th-level | 1 | | 1 | | 1 |
| Investiture of Ice | 6th-level | 1 | | 1 | | 1 |
| Investiture of Stone | 6th-level | | | 1 | | 1 |
| Investiture of Wind | 6th-level | 1 | | 1 | | 1 |
| Mass Suggestion | 6th-level | | | | 1 | |
| Move Earth | 6th-level | | | | | 1 |
| Otiluke's Freezing Sphere | 6th-level | 1 | | 1 | 1 | 1 |
| Programmed Illusion | 6th-level | | | | | 1 |
| Scatter | 6th-level | | | | | 1 |
| Sunbeam | 6th-level | 1 | | 1 | 1 | 1 |
| Wall of Ice | 6th-level | 1 | | | | 1 |
| Wall of Thorns | 6th-level | 1 | | | | 1 |
| Wind Walk | 6th-level | | 1 | | | |
| Delayed Blast Fireball | 7th-level | 1 | | | | |
| Divine Word | 7th-level | | | | 1 | |
| Dream of the Blue Veil | 7th-level | | | | | 1 |
| Fire Storm | 7th-level | 1 | | | | |
| Forcecage | 7th-level | | | | 1 | |
| Mirage Arcane | 7th-level | | | | | 1 |
| Mordenkainen's Magnificent Mansion | 7th-level | | | | | 1 |
| Plane Shift | 7th-level | | | | | 1 |
| Prismatic Spray | 7th-level | 1 | | 1 | | |
| Reverse Gravity | 7th-level | | | | 1 | |
| Symbol | 7th-level | 1 | | 1 | | |
| Temple of the Gods | 7th-level | | | | | 1 |
| Whirlwind | 7th-level | 1 | | 1 | | |
| Abi-Dalzim's Horrid Wilting | 8th-level | 1 | | | 1 | |
| Animal Shapes | 8th-level | | | | | 1 |
| Antimagic Field | 8th-level | | | | 1 | |
| Control Weather | 8th-level | | | | 1 | |
| Holy Aura | 8th-level | | 1 | 1 | | |
| Illusory Dragon | 8th-level | 1 | | 1 | | |
| Incendiary Cloud | 8th-level | 1 | | | 1 | |
| Maddening Darkness | 8th-level | 1 | | | 1 | |
| Mighty Fortress | 8th-level | | | | | 1 |
| Sunburst | 8th-level | 1 | | 1 | 1 | |
| Tsunami | 8th-level | 1 | | 1 | 1 | |
| Astral Projection | 9th-level | | | | | 1 |
| Mass Heal | 9th-level | | 1 | | | |
| Mass Polymorph | 9th-level | | | 1 | 1 | 1 |
| Meteor Swarm | 9th-level | 1 | | | | |
| Prismatic Wall | 9th-level | 1 | | 1 | | |
| Psychic Scream | 9th-level | 1 | | 1 | | |
| Storm of Vengeance | 9th-level | 1 | | 1 | | |
| Weird | 9th-level | 1 | | 1 | | |