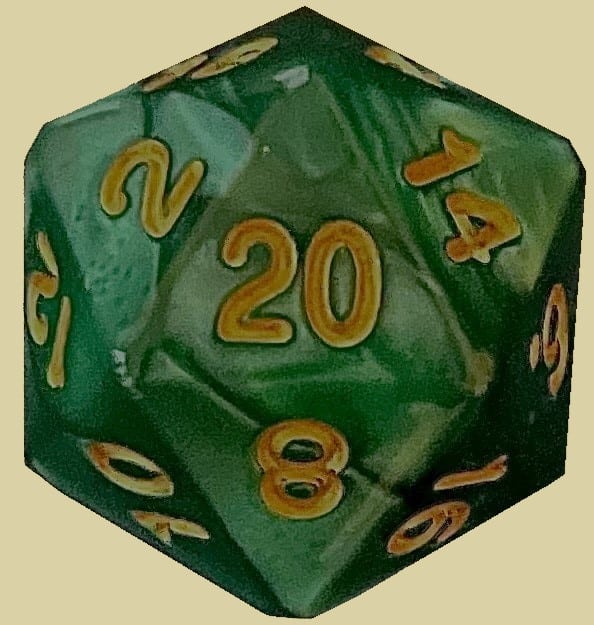 Roll the die to name your satyr (Just click it)
I made this satyr name generator as a resource to help DnD players get inspiration for a new satyr character and to help quickly come up with satyr names for DMs. In DnD 5e, satyr names have a given first name that's linked to their gender, as well as nicknames that they give to one another.
These names are "as playful and mischievous as they are, and each one is given when a satyr's personality shines through" (Mythic Odysseys of Theros, pg. 24). This generator contains the examples given in that DnD 5e sourcebook, as well as many more from my own imagination, derived primarily from Greek mythology and naming conventions. For the nicknames, I tried to follow through with the pattern provided in the MOoT sourcebook. If you'd like to look at a list of satyr names rather than use the generator, you can find those below.
If you'd like more help building your character's background, check out my backstory generator, personality traits, ideals, bonds, and flaws generators. They each contain completely unique character traits — I didn't just recycle the bits and pieces of the backstories from the original generator.
Also, if you're looking for a character name for a different race, check out my DnD name generator.
Female Satyr Names
Callirhoe

Olynthius

Ioanna

Eupraxia

Calandra

Xanthinos

Tasia

Vasiliki

Maia

Niki

Orsalia

Iphianassa

Kyma

Aurora

Alethea

Althea

Elpida

Kallipso

Helikonios

Helene

Kallista

Gorgo

Thalassa

Fotini

Stymphalian

Melitaea

Aglaea

Uranidora

Menoetius

Zephyrella

Iphigenia

Despina

Charis

Melanippe

Gynaika

Chara

Galatea

Dysis

Phileira

Melina

Euterpe

Avra

Zephyrine

Olympia

Zenobia

Hesperis

Yanna

Odelia

Maritsa

Euphemia

Eudoxia

Pherenike

Kallipateira

Xeni

Zenareia

Oenone

Sotiria

Kalypso

Gorgoneia

Gryllus

Eleftheria

Chloris

Melousa

Eumelia

Glykeria

Galanthis

Agathi

Cressida

Thalia

Kaiti

Thyella

Orithya

Amalthea

Theodora

Euthalia

Minerva

Hestia

Dione

Callisto

Roxana

Leonikos

Helissa

Caelia

Antheia

Eulalia

Chrysi

Selene

Xanthoula

Doris

Callidore

Kynthia

Damaris

Kalliope

Theodotis

Calyce

Xanthisma

Demophoon

Lysandra

Xylia

Basilissa

Altheia

Isidoros

Irini

Thelxinoe

Zoi

Euphronius

Orithyia

Meligeneia

Parnassian

Yolanda

Briseis

Thespia

Panacea

Heliodora

Callidora

Philomela

Lia

Eirini

Nikandros

Iolanthe

Galatia

Areti

Pagona

Iole

Juno

Aliki

Demetra

Xanthippe

Melinoe

Xanthe

Eudoxa

Alcippe

Zephyra

Theron

Isidora

Bithia

Glykera

Philophrosyne

Basilia

Dafni

Euphrosyne

Bryonia

Berylla

Nyx

Aello

Kallon

Urania

Niobe

Eurydice

Xenodora
Male Satyr Names
Belisarion

Olympios

Herodotus

Takis

Dardanus

Galenos

Miltiades

Hippocrates

Yannis

Menestheus

Panthias

Zephyros

Soterios

Cadmus

Chariton

Iason

Belenus

Vassilios

Euthydemos

Styrakios

Omiros

Thessalian

Remios

Stavrianos

Ionas

Kassandros

Olynthios

Belisar

Aristos

Dorikos

Filippos

Agenor

Callias

Varnavas

Orestian

Xenophontas

Gavros

Leonidios

Euphranor

Remus

Alekos

Alpheios

Lysandros

Bellerophontes

Orestes

Menelaus

Bellerophon

Lycomedes

Metrodoros

Heron

Menyllios

Vangelis

Cepheus

Kallisthenes

Hermesianax

Orpheios

Parnassius

Kallistratos

Agapetos

Aristarchus

Heliodoros

Anaximenes

Euphemios

Chiron

Kyros

Priam

Gavriil

Galeron

Kallisthenis

Gavril

Arion

Leonidas

Eutychios

Icarus

Galileos

Euthymios

Zenon

Hermippus

Pantelis

Kallias

Vassilian

Kyriakos

Theocritus

Dorianus

Leontis

Aeson

Niketas

Zoticus

Xenon

Damon

Euthymius

Castorius

Nestor

Castor

Leontios

Xanthopoulos

Zephyridas

Themistocles

Zephyrion

Leandros

Hylas

Yorgos

Theseus

Theodosius

Sotirian

Kallistos

Stavros

Amphilochus

Neofytos

Polydoros

Diomedes

Kyprios

Belisarius

Aegidius

Leontinos

Nestorius

Zephyrios

Hipparchus

Damokles

Charon

Parnassos

Pausanias

Icarion

Chrysander

Euthyphron

Spyro

Nikitas

Ilias

Galateos

Zoticas

Euthymos

Aeneas

Theodotos

Iakchos

Dimi

Xanthios

Dorian

Actaeon

Neophytos

Nikiforos

Panagiotis

Bion

Isidor

Xenophon

Autolycus

Menyllos

Orpheus

Belisarios

Endymion

Galen
Satyr Nicknames
Fancypaws

Bumblefoot

Chucklehooves

Cloverwhisker

Glimmerhoof

Rustlefoot

Rumbletoes

Tumbletoes

Dappleback

Bristlechin

Fluffernose

Quicktwirl

Quicksilver

Gigglesnout

Dandelionmane

Quicksprout

Cloverdance

Quicksurf

Swirlhooves

Nectarhoof

Sweettoes

Twinkletail

Topsy-Tail

Nobblehorn

Nuttytail

Twinkle-Eyes

Pipsqueak

Berrybreeze

Bramblespring

Waggletail

Zipzap

Leafytoes

Fuzzletail

Jugglewhisk

Hopsalot

Rumblewind

Puddlewhisk

Rumblewings

Pebblepaws

Sunshine

Cloudwhisk

Zephyrflit

Jesterhooves

Mirthfulhoof

Sparklepaws

Rumblewhisk

Doodlehoof

Mirthfultail

Jovialmane

Bramblewhisk

Fizzypaws

Moonsong

Swayback

Jumplegs

Jesterwig

Quickswoop

Glittershank

Bristlewhisk

Grassywhiskers

Tanglewhisk

Scufflebutt

Rascalwhisk

Gobstopper

Clovertooth

Rumblespring

Fiddlesticks

Quickstep

Zephyrtooth

Ramblerump

Nimblerump

Dizzydance

Chortlehoof

Dizzywig

Doodlewhisk

Meadowhooves

Twinklewhisk

Plumetoes

Frolicwhisk

Gossamerwhisk

Quickspring

Silvershank

Moonshadow

Quickskip

Sweetsong

Mischiefwhisk

Windywhisk

Pebbleshank

Mischiefhoof

Quicksquall

Clip-Clop

Dapplewhisker

Echofoot

Happyhoof

Hoppity-Hooves

Frolicpaws

Peppertail

Sunbeam

Dizzyhoof

Tanglehoof

Mirthfultooth

Quickswoosh

Nimbus

Fluttertail

Peachywhisk

Dizzyhooves

Merrymist

Jumpleg

Pebbletail

Tickletoes

Gigglespring

Jollyhoof

Jangleshank

Zephyrdance

Peachyhooves

Breezytoes

Wigglewhisk

Zippity-Doo

Gustyhoof

Frolicmane

Tanglemane

Curlymane

Skiphoof

Puddlepaws

Rumbletooth

Bramblehoof

Quickfoot

Dapplehooves

Cloudbounce

Willowwhisk

Gossamertail

Zephyrfrost

Bounder

Hopper

Starshine

Zephyrglitter

Nutmeg

Tanglespring

Gustywhisk

Glimmerhooves

Jollymane

Orangebeard

Emberwhisk

Jinglebeard

Fizzletail

Jumpleap

Twinklesong

Dapplewig

Dizzywhisk

Rascaltail

Sweetspot